From Siberia With Love
SIBERIAN PINE PRODUCTS
This page is dedicated to the Siberian pine products under brand name «Siberian Pine Nut Oil». Here you can ask your questions, find your answers and read the reviews from people who already used our pine products.
What is Siberian pine nut oil?
Siberian pine nut oil Extra Virgin, the most beneficial oil in the world, is made from Siberian pine nuts. Its vitamin-mineral complex exceeds that of any other vegetable oils and cannot be artificially synthesized.
The composition includes a variety of fatty acids (like pinolenic acid), vitamins, minerals and has a mild nut aroma, rich amber color and dense, heavy consistency. It has long been valued as a remedy for hundreds of ailments.
Pine cones are collected by hand in ecological clean region – deep Siberian taiga from wild pine trees, shelled and then cold pressed using wooden oil-presses to ensure the highest quality products.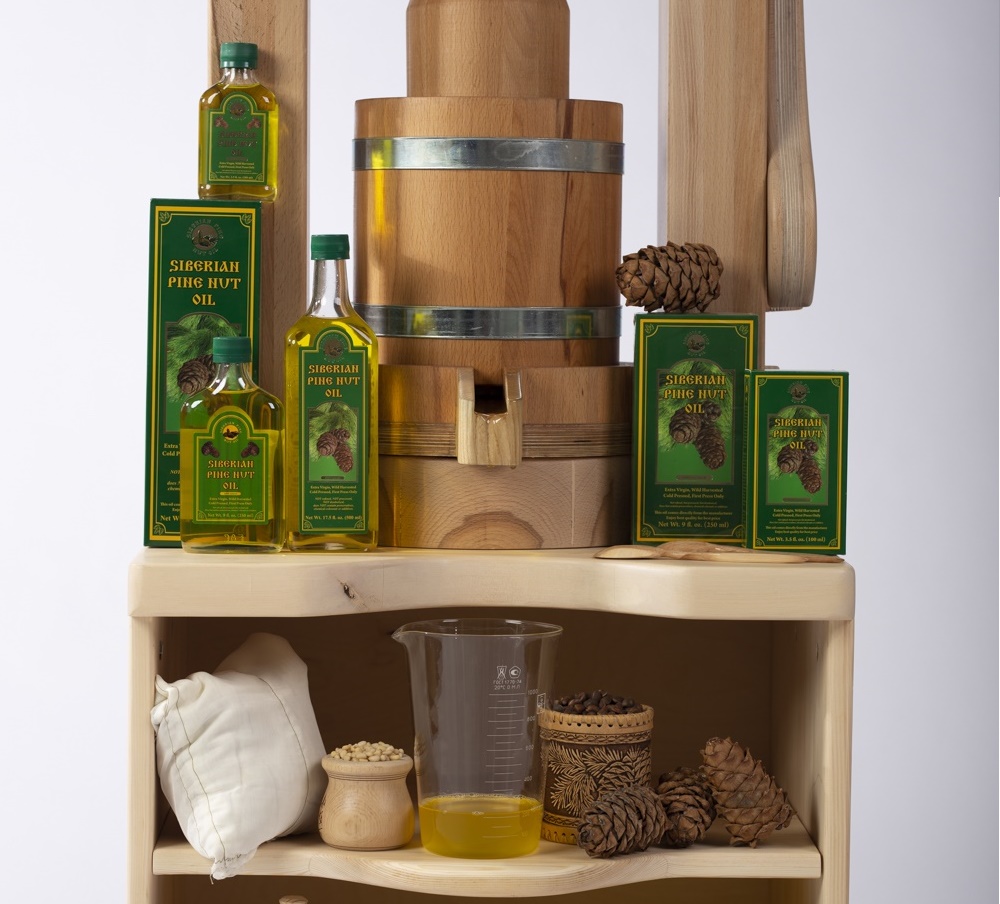 Video from our Production Base in Siberia
Our company strives to produce the best possible quality. Watch our presentation video about production process and techniques.
Pine Nut Oil Health Benefits
The inhabitants of an unpopulated taiga, who enjoy long lifespan, know the Siberian pine oil benefits. They consider it the elixir of health, beauty and longevity. It contains unsaturated fatty acids (or omega-acids, like pinolenic acid) and vitamins А, В1, В2, В3, D, Е, К. In addition, the composition includes iron, manganese and zinc - mineral elements that strengthen the body and activate its own ability to restore. Its beneficial properties to the skin and hair have been established for a long time; therefore, it is widely used in cosmetology. It can also help cure skin diseases (including psoriasis, diathesis, eczema and seborrhea). Its health benefits include the following:
Help Straitened Stomach Health
Natural Solution for Peptic Ulcer
Great Remedy for Gastritis
Fight Helicobacter Pylori
Heartburn Relief
Valuable Source of Omega 3 and 6
Support Brain and Nervous System
Strong Anti-Oxidant
Natural Super Food
Increases Energy Level
A great diversity of natural, genuine, high quality cold-pressed Siberian pine products can be bought from the web site no matter where you are. Our company can ship all over the world, including USA, Canada, Europe, Australia, Asia, Middle East and Oceania and other places from one of the three warehouses around the world.
We invite our readers to learn additional information about the benefits in web site articles.
The WHO estimates that around 1.3 billion people around the world are visually impaired. Many of the problems can be prevented: for exa...
Varicose veins are swelling of the veins of the legs, which occurs when the venous valves are weakened and blood circulation is disturb...
Thrombosis is the formation of dense masses from the blood. These dense masses block the vessels, move along them with the blood flow (...
Natural Products from Siberia
Siberian pines live up to 800 years and sometimes longer. These gorgeous giant trees can reach a height of forty meters. The great part of Siberia is covered by taiga - a thick, impassable coniferous forest. Siberian taiga enriches the entire Northern Hemisphere with oxygen. The special climate of this place is ideal conditions for Siberian Pine tree, one of the greatest trees on the planet. Pine tree is a storehouse of nutrients that you can try today. Discover healthy natural products that are derived from the wild trees in the cleanest region in the world – Siberia. Our company offers a variety of high-quality natural products such as pine nuts, oil, flour and flakes. The full list of products and additional information can be found here.
Video from Siberian forests
A team of brave people together with residents of local eco-settlement have been organizing expeditions to the taiga to deliver to your table wholesome and fresh pine nuts within a period of two weeks after the nuts are shelled.