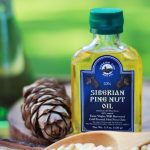 I went through the "Siberian cleansing" with 20% turpentine balsam on pine nut oil. I felt the results after about a week of use. The body was actively cleansing itself. After 2 weeks I felt lightness and strength in the body, I became energetic.
My sleep improved and skin became more clean and fresh. People admire the way I look: glowy and freshness.
Thank you so much for continuing our ancient healing traditions with the help of Mother Nature!